Centre of Excellence on Longevity
Press release — March 26th 2020 — For immediate release
ESOGER1© >> ISOLATED SENIORS AT RISK
COVID-19 has given way to an unprecedented health care crisis, especially with regard to elderly persons aged 70 and above, who risk suffering from direct, more frequent and more serious complications arising from the infection than young persons would.
Furthermore, the current social distancing recommendations which are being undertaken as a preventative measure may increase the risk of indirect complications for elderly persons, such as lack of follow-up, greater risk of chronic illness decompensation due to health care channel reorganization and other factors, including anxiety, depressive symptomatology, nondisclosure of symptoms for fear of needing to travel to the hospital, poor access to medication due to confinement… 
ESOGER1© (ÉVALUATION SOCIO-GÉRIOATRIQUE DE PREMIER NIVEAU EN PÉRIODE DE DISTANCIATION SOCIALE OR FIRST LEVEL SOCIO-GERIATRIC EVALUATION IN PERIODS OF SOCIAL DISTANCING)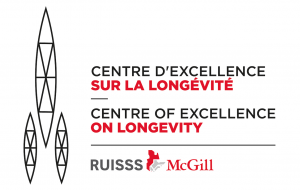 The Centre of Excellence on Longevity at the McGill RUISSS designs and develops autonomy and human longevity tools to assist elderly persons, their caregivers, medical-social care professionals and communities. We have designed, tested and are now making available a socio-geriatric tracking tool for elderly persons, for use during the current isolation period, named ESOGER1.
ESOGER1 is a way to comprehensively and remotely evaluate the socio-geriatric situation of a specific elderly person, by determining possible complications and recommending action.
It enables health care and social/administrative professionals to identify at risk elderly persons within their communities, and therefore to prioritize interventions in critical, overloaded times, such as the situation we are currently experiencing.
In a crisis such as COVID-19, it is crucial to identify the most at risk elderly persons in a timely fashion, so that we may put in place the correct interventions which will prevent both complications and overcrowding of health and social care channels.
Targeting the right persons, while forgetting none!
ESOGER1 IS: A clinical tool used to track at risk socio-geriatric situations. It is easy to use, not only for medical-social care personnel, but also non-medically trained persons.

ESOGER1 IS NOT: A medical act or remote consultation. It is also not a scientific research tool.
ESOGER1 asks the right questions and generates a result which can be immediately interpreted by all medical-social care professionals.
ESOGER1 is essentially a "risk score" which proposes to trigger specific actions in response to certain results, such as communicating with a social centre or nurse, or requesting medical intervention…
WHO MAY USE ESOGER1©?
ESOGER1 is a short (5 min) survey to be undertaken over the phone with the elderly person or a caregiver. It tracks social and gerontological indicators to determine an applicable risk level, and may detect situations requiring one or several preventative interventions.
ESOGER1 may be administered by medical-social care personnel, but also by administrative and other non-medically trained personnel.
A hospital, administration, community or region could therefore, in periods of health crisis, continue or put in place essential follow-up procedures for isolated elderly persons with any available human resources.
What is being said:
Mrs. Anne-Guylaine Legault, Mayor of Sainte-Lucie des Laurentides, Quebec: "The tool is very easy to use, and allows us to both better structure and expedite our workload! It also allows us to follow up on difficult situations faced by elderly citizens, and to eventually intervene as needed. This survey should be made available to all the Municipalities who request it."
Mrs. Sandrine Morgan, Assistant librarian, Séné, France: "The use of ESOGER1 has been extremely comforting; it asks specific questions and remains objective; therefore allowing us not to become emotionally overwhelmed."
WHERE IS ESOGER1© FOUND?
ESOGER1 is freely available on the secure Centre of Excellence on Longevity Internet platform.
Access to ESOGER1 and its use are both free and anonymous.
As required by applicable ethical and confidentiality regulations, none of the entered data will be saved by the platform. You may complete ESOGER1 online and save the results on your computer (xls or pdf) or in print.
AFTER ESOGER1© 
ESOGER1 facilitates the tracking of isolated elderly persons who require help or intervention.
As a first level evaluation, ESOGER1 may not, should any doubt arise, replace REQUESTING ADVICE FROM A HEALTH CARE PROFESSIONAL.
ACCESSIBILITY OF ESOGER1© 
ESOGER1 is available in both French and English at http://www.ageteq.ca.
---
MEDIA CONTACT:
Centre of Excellence on Longevity at the McGill RUISSS
Christine Vilcocq
Mob.: 438-406-6806—christine.vilcocq@mail.mcgill.ca
2020/04/10 : Un outil permet le repérage des personnes isolées nécessitant une intervention [Hospimedia]
2020/03/23 : Lutter contre l'isolement des personnes âgées et fragiles isolées en période de confinement
Rapport d'étape n°1 et principales recommandations de la mission confiée par Olivier Véran, ministre des solidarités et de la santé à Jérôme Guedj le 23 mars 2020
Here are some documentaries on the research projects of the Centre of Excellence on Longevity.
To request the right to use these images, contact us!